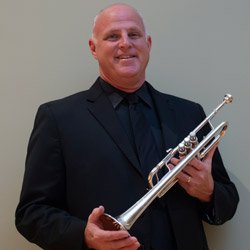 Kevin Long
trumpet, holds both his undergraduate degree in music education and master of music in performance degree from West Chester University. He has studied trumpet with current and former members of the Philadelphia Orchestra, Delaware Symphony and the United States Marine Band "The President's Own." In 1986, Kevin and trombonist Bryan Hay co-founded the Mainstreet Brass and continue a friendship that began in high school. In 1991, he was selected to be solo trumpet for the premiere of composer David Ifkovitz's Mass, an experience that led to many varied and unique performance opportunities. Freelancing extensively, Kevin has performed with the Allentown Symphony, Allentown Symphony Pops, the Allentown Band, Philadelphia Brass, Appalachian Brass and the Bethlehem Bach Festival Brass Choir. His enduring friendships with several former brass players who served in the Regimental Band of Her Majesty's Coldstream Guards have led to may unique musical collaborations and experiences for the Mainstreet Brass. Kevin is a retired music educator, serving as an instrumental and ensemble instructor for more than 35 years.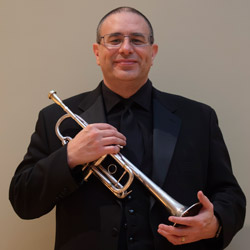 Ed Hirschman
trumpet, leads a multi-faceted life in music as an arranger, composer, publisher, sheet music retailer, bandleader, sideman, and mute manufacturer. He has founded and leads three ensembles, the Atlas Brass Quintet, Princeton Symphonic Brass and Thrice, a trio of Piano, French Horn, and Trumpet. Ed has composed a number of works including "Four Bridges", winner of the Ars Nova Brass Quintet Composition Contest. He has arranged well over 200 works for wind quintet, brass quintet, brass ensemble, brass trio, and piano. His arrangement of "We Wish You a Merry Christmas" was recorded by the New York Philharmonic for its 2020 Holiday Brass Concert conducted by Phil Smith. Ed's works are published and sold by his sheet music company, artofsoundmusic.com, which sells over 1,500 works by 100 composers and arrangers. As a trumpet player, Ed is at home as a soloist or group member in church services, wedding ceremonies, big bands, rock bands, chamber ensembles, and orchestras. His mute company Hirschmanmutes.com makes a variety of models for trombone and trumpet, and its recent KR Indigo line of plungers (co-designed by Kenny Rampton of the Jazz at Lincoln Center Orchestra) are favored by many of the world's top trumpet players including Wayne Bergeron, Randy Brecker, Tom Hooten, Arturo Sandoval, and Thomas Gansch.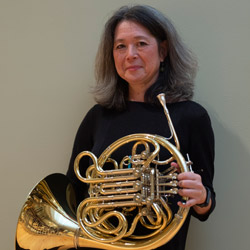 Shari Gleason-Mayrhofer
horn, earned a bachelor of music degree in horn performance and music theory from Oberlin College Conservatory, and holds master's degrees from the University of Wisconsin-Madison and Georgia State University. Shari has participated in the Grand Teton Orchestral Seminar and studied at the Banff Centre in Canada. Her private teachers include Douglas Hill, Robert Fries, Kendall Betts. She also studied with William VerMeulen, David Wetherill, and Froydis Ree Wekre.
Shari maintains a busy performance schedule in the Lehigh Valley-Berks County area. She  serves as executive director of the Friends of Chamber Music of Reading, teaches horn at Lehigh and Kutztown universities and Muhlenberg College, and maintains a busy performance schedule in the Lehigh Valley-Berks County area. She is a member of the Pennsylvania Sinfonia Orchestra, Fyve Woodwind Quintet, the Pennsylvania Philharmonic and the Southside Sinfonietta, and performs in musical theatre productions at the Fulton Theatre, Muhlenberg College, and DeSales University.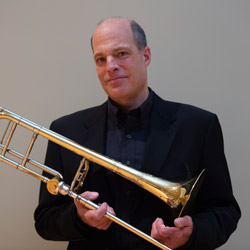 Bryan Hay
trombone, is a graduate of Moravian College, where he received a bachelors degree in journalism and pursued trombone performance with a concentration in music. At Moravian, he was a brass ensemble student of Lawrence Wright. Bryan has performed at the Pennsylvania Shakespeare Festival, with the Pottstown Symphony, Schuylkill Symphony, the Bethlehem Bach Festival Orchestra, Concerto Soloists of Philadelphia, the Central Jersey Symphony, the Hunterdon Symphony Orchestra, the Moravian Music Festival Orchestra, the Lehigh Valley Pops, the Allentown Band, Appalachian Brass, and Atlas Brass. Bryan is a charter member of the Mainstreet Brass and the Silver and Brass Trombone Quartet. When he's not playing trombone, he's singing bass with the Bach Choir of Bethlehem.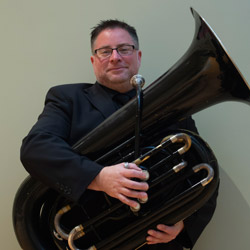 Allen Frank
tuba, holds a bachelor of arts degree in music from Moravian College. While at Moravian, Allen studied tuba with Grant Moore II and was a brass ensemble student of Lawrence Wright. Prior to his collegiate studies, he studied at the Armed Forces School of Music in Little Creek, Va., before a three-year tour of duty with the U.S. Marine Corps Band of Quantico, Va. As a member of the Marine Corps Band, Allen served as principal tubist and soloist for the concert and marching bands and performed with the band's brass quintet, the Ambassador Brass, collaborating with such names as the Canadian Brass and the Neville Brothers. He was a cast member on the national tour of "Blast!," which won a Tony Award for best special theatrical event and an Emmy Award for best choreography. In 2007, Allen served as the American conductor of the Unity Brass Festival in Cape Town, South Africa, which brought together 300 brass players from Europe, North America and South Africa. He has performed as a member of the tuba section and as a soloist with the Allentown Band, America's oldest civilian concert band, and remains active around the musically rich Lehigh Valley of eastern Pennsylvania. Allen directs the Liberty High School Grenadier Band Director and is artist-lecturer in tuba at Moravian University.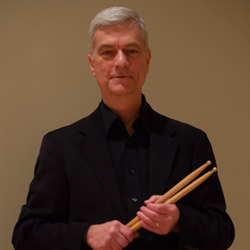 Steve Mathiesen
percussion, received a Master of Music degree from the Cincinnati College-Conservatory of Music and a Bachelor of Music degree from the Ithaca College School of Music. In addition to performing with the Mainstreet Brass, He plays in the percussion section of the Northeastern Pennsylvania Philharmonic and also serves as principal timpanist with the Binghamton (N.Y.) Philharmonic and the Pennsylvania Sinfonia Orchestra in Allentown, Pa. He's also made appearances with the Bethlehem Bach Festival Orchestra, Cayuga Chamber Orchestra, Lehigh Valley Chamber Orchestra, Allentown Symphony and Reading Symphony and has accompanied many professional entertainers in their appearances at area venues.
Steve has appeared on recordings with the Mainstreet Brass, the Bach Choir of Bethlehem and the Pennsylvania Sinfonia Orchestra, as well as numerous studio recordings for Shawnee Press and Alfred Publishing. He played timpani in Don't Be a Carbon Sasquatch, part of the Disney DVD Schoolhouse Rock: Earth. His compositions and arrangements are published by Shawnee Press, Honeyrock Publications, C-Alan Publications and Permus Publications.
His principal teachers were William Youhass and Allen Otte. A teacher at Marywood University, Moravian College and Lehigh University, Steve is a graduate of East Stroudsburg (Pa.) Area High School and was inducted into that school district's Music Hall of Fame in 2005. He and his wife Carla and their three children live in the Pocono Mountains region of Pennsylvania.